Ophthalmology
The department of Ophthalmology, CMC (Schell Eye Hospital), started the eye services at the Chittoor campus in August 2012. Initially, the out- patient services were only once a month. Patients who required cataract surgery and those who needed further management were referred to Schell Eye hospital. In 2017 a part time ophthalmologist was appointed and OPD services were available 3 days a week. From January 2019 we have a full time ophthalmologist and patients can access eye services all days of the week. We have all the basic equipment but we do need more equipment to improve our services.
The 日博电竞 Association of India (CMAI) has recognised our department to conduct the Diploma in Optometry and Ophthalmic Technology course. The department has been working closely with the Community health department to conduct screening camps in the villages to detect cataract blind patients. We also plan to have community based eye workers for primary care, as well as community based preventive eye care centres.
Department Profile
Department of ophthalmology is a part of CMC Vellore Chittoor campus which is a non- governmental, non-profit and registered charitable institution. Department of Ophthalmology aims at patient care, research and training paramedical staff.
Department of Ophthalmology at Chittoor Campus started as eye clinic in January 2017
Features:
Education
Yearly Department trainee intake is 4 students for diploma in optometry
Objectives
To provide primary and secondary care to the people of Andhra Pradesh
To provide tertiary care to all the patients of India
To provide standard training to optometry students
To do research in relevant areas of health fields
To practice medicine ethically and give excellent care
To make pleasant environment for staff and students
To work together to fulfil the vision and mission of CMC
Facilities
Haag-streit slit lamp Biomicroscope
Carl- Zeiss slit lamp Biomicroscope
Goldmann Applanation Tonometer
Schiotz Tonometer
Intranet desk top computer system
Examination table
Tomey ultrasonic pachymeter
Nidek Lensometer
Tomey A Scan biometer
Octopus 600 (Haag- Streit) Visual field analyser
Bosch and Lomb keratometer
Tomey Auto refracto – keratometer
Serial trial lens set
Heine Streak retinoscope
Welsh- Allyn streak retinoscope
Indirect Ophthalmoscope
Direct Ophthalmoscope
Anterior segment imaging system
Exophthalmometer
90 D Volk Aspheric lens
20 D Volk Aspheric lens
Volk 4 mirror indirect gonioscope
Chalazion I & C surgical instruments
Cataract Surgical instruments
Enucleation surgical instruments
Evisceration surgical instruments
Dacryocysto-Rhinostomy surgical instruments
Pterygium excision surgical instruments
| Primary eye care | Secondary eye care |
| --- | --- |
| Rural area screening for eye disease | General ophthalmology clinic |
| Screening of school children for eye disease | Refractive errors diagnosis |
| Diabetic retinopathy screening | Foreign body removal |
| Glaucoma screening | Chemical injury management |
| | Visual field testing |
| | ROP Screening |
| | Paediatric Squint evulation |
| Lids & Adnexae | Anterior Segment | Posterior Segment |
| --- | --- | --- |
| Lagophthalmos surgery | Dry eye evaluation and management | Choroidal drainage |
| Ectropion & Entrepion corrections | OSSN evaluation and management | Anti VEGF intravitreal injection |
| Lid tear repair | SLET procedure | OZURDEX intravitreal injection |
| Chalazion I & C | DALK | Rentinal photocoagulation |
| Lid tumour excision | PK | |
| DCT | DSEK | |
| External DCR | K- PRO | |
| DCR with intubation | Therapeutic PK | |
| Probing for Cong NLD obstruction | SICS | |
| | PHACO | |
| | SICTRABS | |
| | TRIPLE | |
| | YAG CAP | |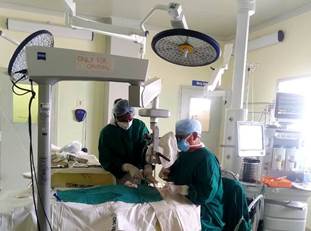 OUTPATIENT DEPARTMENT TIMINGS
MONDAY TO FRIDAY
8:00am to 4:30pm
SATURDAY
8:00am to 12:00pm
Doctors /Faculties - Ophthalmology